Defect #1174
Thai Character Not Display Correctly Using PDF Export
| | | | |
| --- | --- | --- | --- |
| Status: | Closed | Start date: | 2008-05-05 |
| Priority: | Normal | Due date: | |
| Assignee: | - | % Done: | 0% |
| Category: | Issues | | |
| Target version: | - | | |
| Resolution: | Duplicate | Affected version: | |
---
Description
I'm using Redmine 0.7.devel.1415 (MySQL)
The problem occur when i export pdf file from issue module, that the character not display correctly (as image)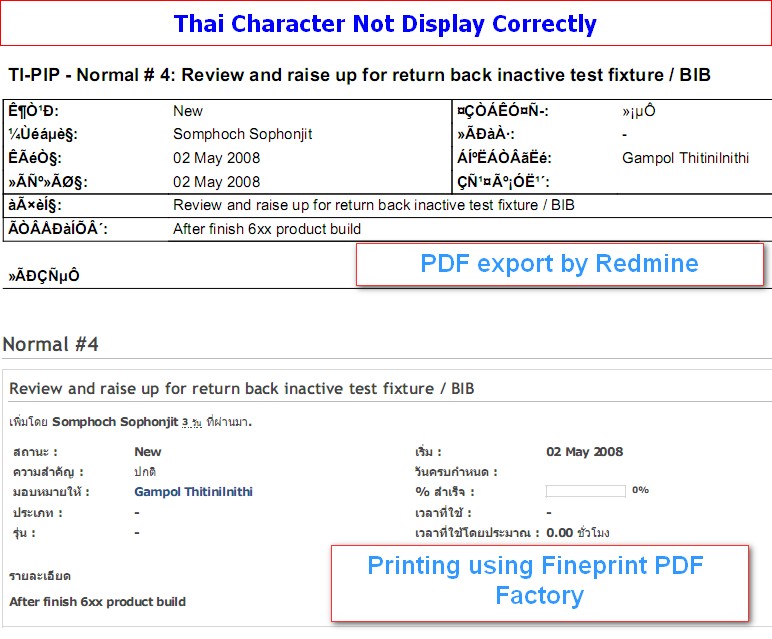 I use to have same problem with CSV export but can correct with following setting in /lang/th.yml
general_csv_encoding: cp874
general_pdf_encoding: cp874
When i print using fineprint pdf factory everything is fine
Please see attach redmine.pdf and fineprint.pdf
---
History
The same is with russian language.
PDF font is corrupted - no symbols except standart ASCII.
I think that you maybe have to add Thai support to rfpdf.
If you read rfpdf's changelog, you will find that it have only add support to chinese, japanese and korean.
But rfpdf's original version FPDF do have support to Thai.
Status changed from New to Closed
Resolution set to Duplicate