Feature #16362
Option to send email on "Assignee updated"
Status:
Closed
Start date:
Priority:
Normal
Due date:
Assignee:
Jean-Philippe Lang
% Done:

0%

Category:
Email notifications
Target version:
2.6.0
Resolution:
Fixed
---
Description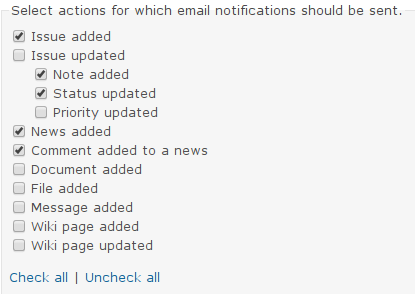 It will be very useful to have option to send notifications on assignee change, under "Issue updated" section.
When "Issue updated" is selected, Redmine mailing is too noisy on busy projects. Users claimed it was spamming too much. When "Issue updated" is not selected, the new assignee does not recieve information about what he have to work on. Complains arise again :) . The best way to resolve this problem would be to enable "Assigne updated" notifications, while keeping uninteresting "70% to 80% progess" changes quiet.
Associated revisions
History
Status changed from New to Closed
Assignee set to Jean-Philippe Lang
Target version set to 2.6.0
Resolution set to Fixed