Defect #18788
Not all columns are saved after their reordering in a custom query
| | | | |
| --- | --- | --- | --- |
| Status: | Closed | Start date: | |
| Priority: | Normal | Due date: | |
| Assignee: | - | % Done: | 0% |
| Category: | Issues | | |
| Target version: | - | | |
| Resolution: | Duplicate | Affected version: | 2.6.0 |
---
Description
When I edit a custom query the way that I move a selected column up, the columns below the selected column are removed from the query as a result.
When the query is being saved it is visible that - by a javascript code probably - only the columns above the moved columns are selected(step3.png).
1. The original state

2. Edit the query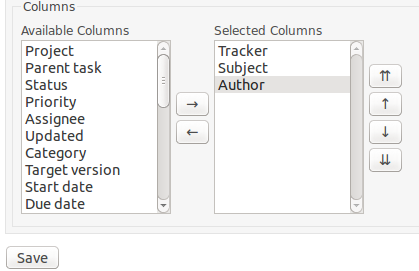 3. Move the last column Author up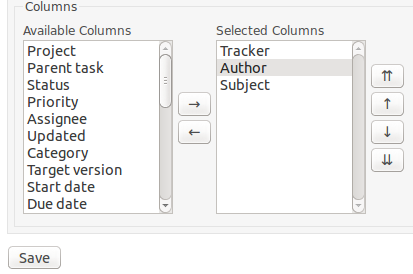 4. Save the edited query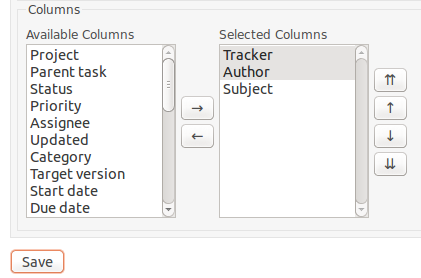 5. The result

---
History
Status changed from New to Closed
Resolution set to Duplicate
Same as #18777, fixed in 2.6.1.
Duplicates Defect #18777: Moving column to top of "Select Columns" results in loss of all other column selections added