Defect #21680
Save button in Settings tab disabled
| | | | |
| --- | --- | --- | --- |
| Status: | Closed | Start date: | |
| Priority: | Normal | Due date: | |
| Assignee: | - | % Done: | 0% |
| Category: | UI | | |
| Target version: | - | | |
| Resolution: | Invalid | Affected version: | 3.2.0 |
---
Description
When only enabling the "Public" checkbox on the Settings/Information page, the Save button does not get enabled.
Workaround: making a change to the description field (even just adding a character and removing it again) is enough to enable Save, then it works and the Public checkbox change gets stored.
I'm running 3.2.0.devel, cloned in Dec 2015 from the repository on GitHub, last log entry:
commit f4c37007025b5bdd018c1b95f54a077a4c52319e
Author: Jean-Philippe Lang <jp_lang@yahoo.fr>
Date: Sun Dec 13 15:39:09 2015 +0000

Adds the "Hide my email address" option on the registration form (#21500).

git-svn-id: http://svn.redmine.org/redmine/trunk@14976 e93f8b46-1217-0410-a6f0-8f06a7374b81
History
I can't reproduce on 3.2.0.devel.14992.
Could you please describe detail procedure to reproduce this issue?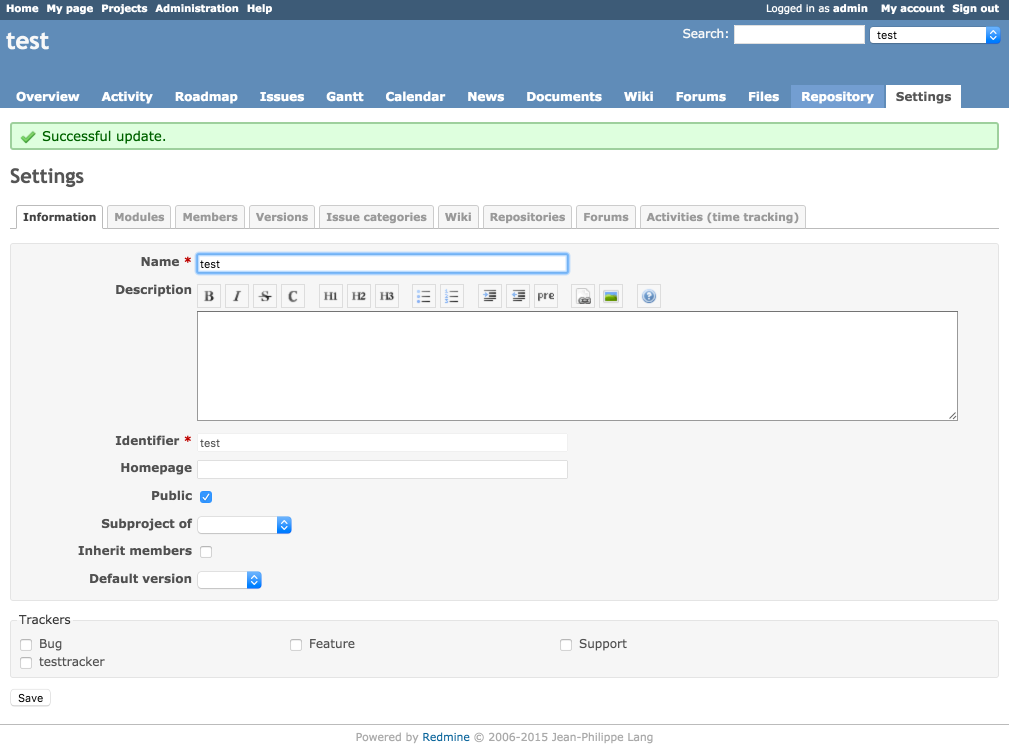 Hmm, I can't reproduce it here anymore. Strange (I'm using Safari on Mac OSX). Suggest closing this issue for now, I'll revisit if this ever happens again. Thanks for checking.
Status changed from Needs feedback to Closed
Resolution set to Invalid
Thanks for the feedback. Closing.