Defect #30164
Missing images in a wiki page are not visualized
| | | | |
| --- | --- | --- | --- |
| Status: | Confirmed | Start date: | |
| Priority: | Normal | Due date: | |
| Assignee: | - | % Done: | 0% |
| Category: | Text formatting | | |
| Target version: | - | | |
| Resolution: | | Affected version: | |
---
Description
Right now if a wiki page has referenced a image/picture, it is not visualizing the lack of the attached binary.
It would be great to add a image reference like this https://upload.wikimedia.org/wikipedia/commons/e/e4/Comic_image_missing.svg with the missing image name as a caption to let the user know, that he has forgot to upload a image
In following cases the images of a wiki page could be missing:
you create a new wiki article, you already reference the wished image, and you later want to batch-upload all images
you cleanup the current wiki pages, by copying some parts into new wiki pages, but you forget to re-upload the images again
In both cases the issue can happen quickly. Sadly if you miss to upload the images afterwards, you need a admin to determine where the images have been and to reupload them again.
This is not user friendly.
History
Firefox displays a broken image icon for a missing image but Chrome does not. So, it is not easy for Chrome users to detect that some images are missing.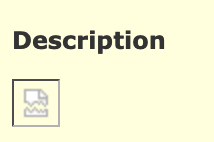 Status changed from New to Confirmed