Defect #7514
Gantt: Issues names not diplayed properly when wrapped to second line
| | | | |
| --- | --- | --- | --- |
| Status: | Closed | Start date: | 2011-02-01 |
| Priority: | Normal | Due date: | |
| Assignee: | - | % Done: | 0% |
| Category: | Gantt | | |
| Target version: | - | | |
| Resolution: | Duplicate | Affected version: | |
---
Description
Hi,
Our Redmine is 1.1.1, Bulgarian Cyrillic.
There is an annoying visual defect in Gantt charts. When issues names are long, they are wrapped to next line, but are not displayed properly. The characters on the second line are displayed partially. Here is an illustration of what I mean: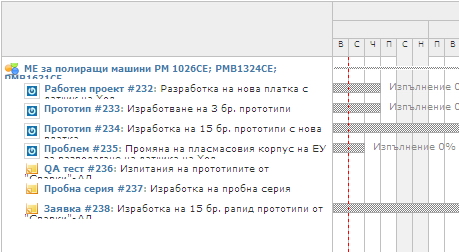 ---
History
Status changed from New to Closed
Resolution set to Duplicate
Closed as duplicate of #7280.