Feature #29208
IDN support for email addresses of user accounts
---
Description
This is a patch to add IDN (internationalized domain names) support to email addresses of user accounts.
Currently, Redmine does not accept IDN email addresses like "joe@ドメイン名例.jp" and its ASCII expression "joe@xn--eckwd4c7cu47r2wf.jp" when creating/updating a user account. After applying this patch, both expressions will be accepted.
According to IDN World Report, there are approx 8.7 millions IDNs in the world as of December 2016, and those are used in many countries. To support IDN email addresses should be beneficial for many people.
This patch converts Unicode domain names to traditional ASCII domain names just before saving an email address. However, it does not convert ASCII domain names to Unicode domain names when displaying email address. Users will see ASCII expression "joe@xn--eckwd4c7cu47r2wf.jp" on my_account page even if they have entered Unicode email address "joe@ドメイン名例.jp".
This approach can minimize the change to existing code and works fine with IDN-unaware MTAs and plugins while allowing people to use IDN email addresses.
"Email" field accepts Unicode domain names: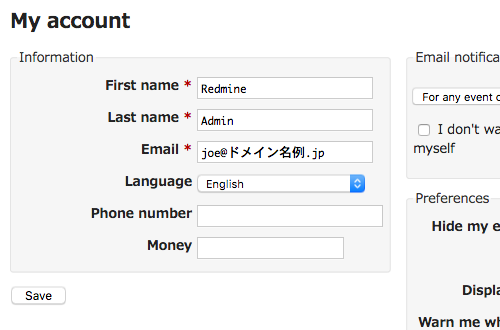 ASCII converted email address is shown after saving: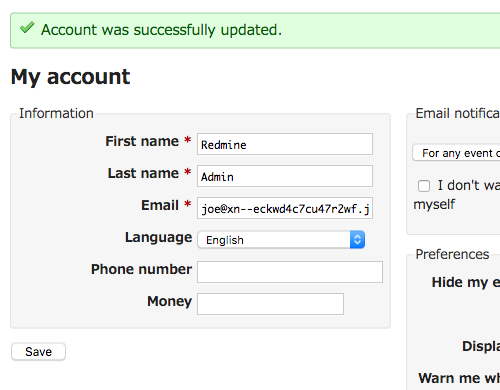 References:
---
History