Plugins Directory » Redmine Time Tracker app for Teams - Desktop Timer for tracking issues
This Redmine time tracker app allows team members to track time for tasks they are working on and to store this time on Redmine.
What makes this timer special:
Search by projects and issues
Issue filter by a status, priority, assignee and other fields
2 project dashboards for different roles
Timer can be stopped automatically due to inactivity of user
Reminder popup for a user to start time tracking after a break
Possibility to track a few issues simultaneously
Possibility to change issue status automatically when play/stop button is pressed
Support of custom fields for Redmine time entries
2 time tracking modes (auto-sync and manual mode)
Auto-sync: Synchronizes time with redmine each 36 seconds
Manual mode: Allows to edit time before sending it to Redmine
Recent issues list (tasks history)
Browser version of time tracker - embedded into Redmine
Allows to work in offline mode (without internet connection)
Centralized app configuration for administrators
High level of security & data privacy as app works directly with redmine server (no third party servers involved)
App works on Windows, MacOS, Linux
Light and Dark themes available
Co-workers watcher - allows users to see tasks your co-workers are working on now.
Staff Manager monitor - allows managers to see tasks team members are working on (in real time).
Read more here: https://www.ukrsolution.com/blog/time-tracker-for-redmine-and-staff-managment-tool
Screenshots:
1. Overview (main screens):¶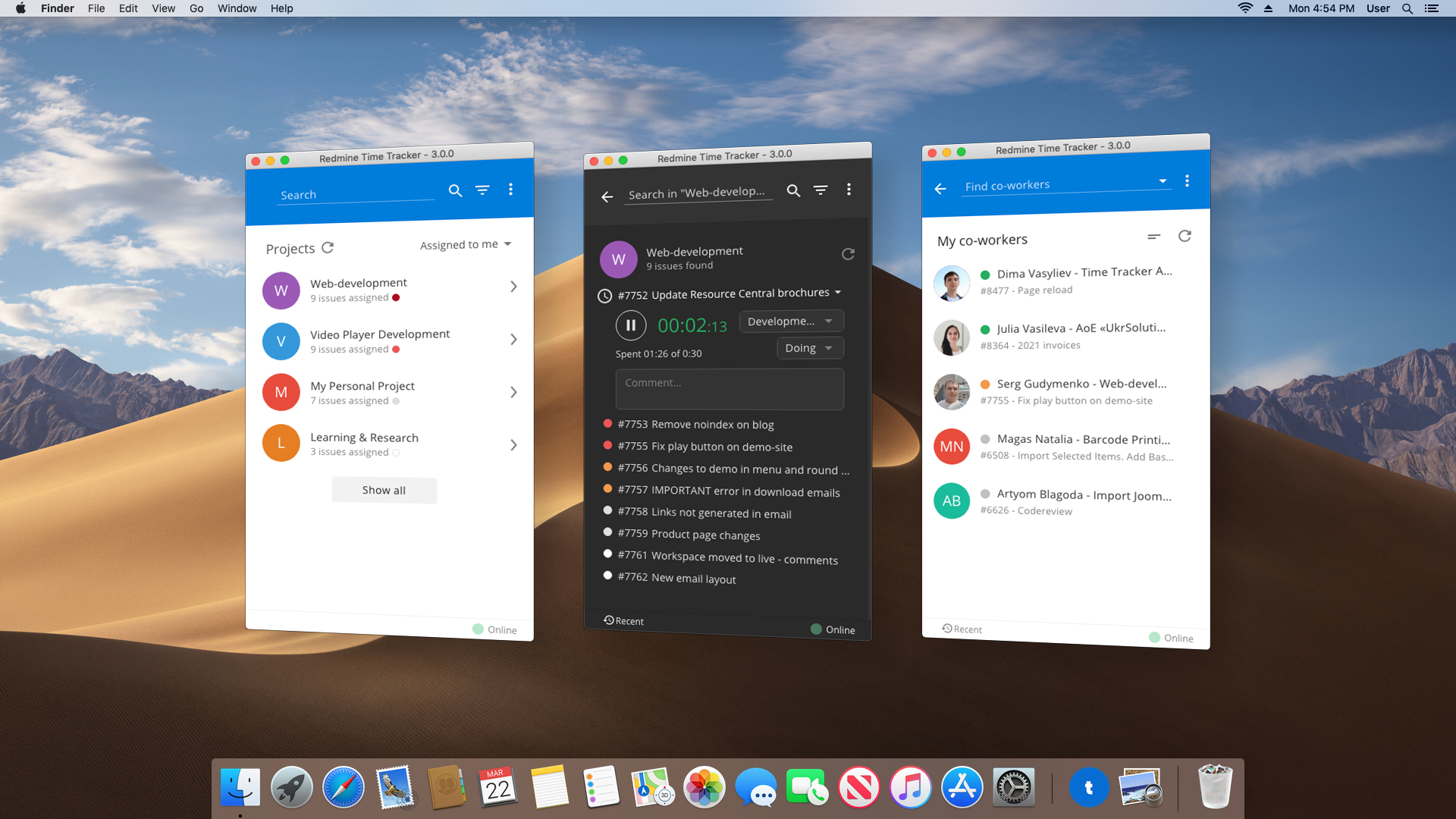 2. Login (Mac OS):¶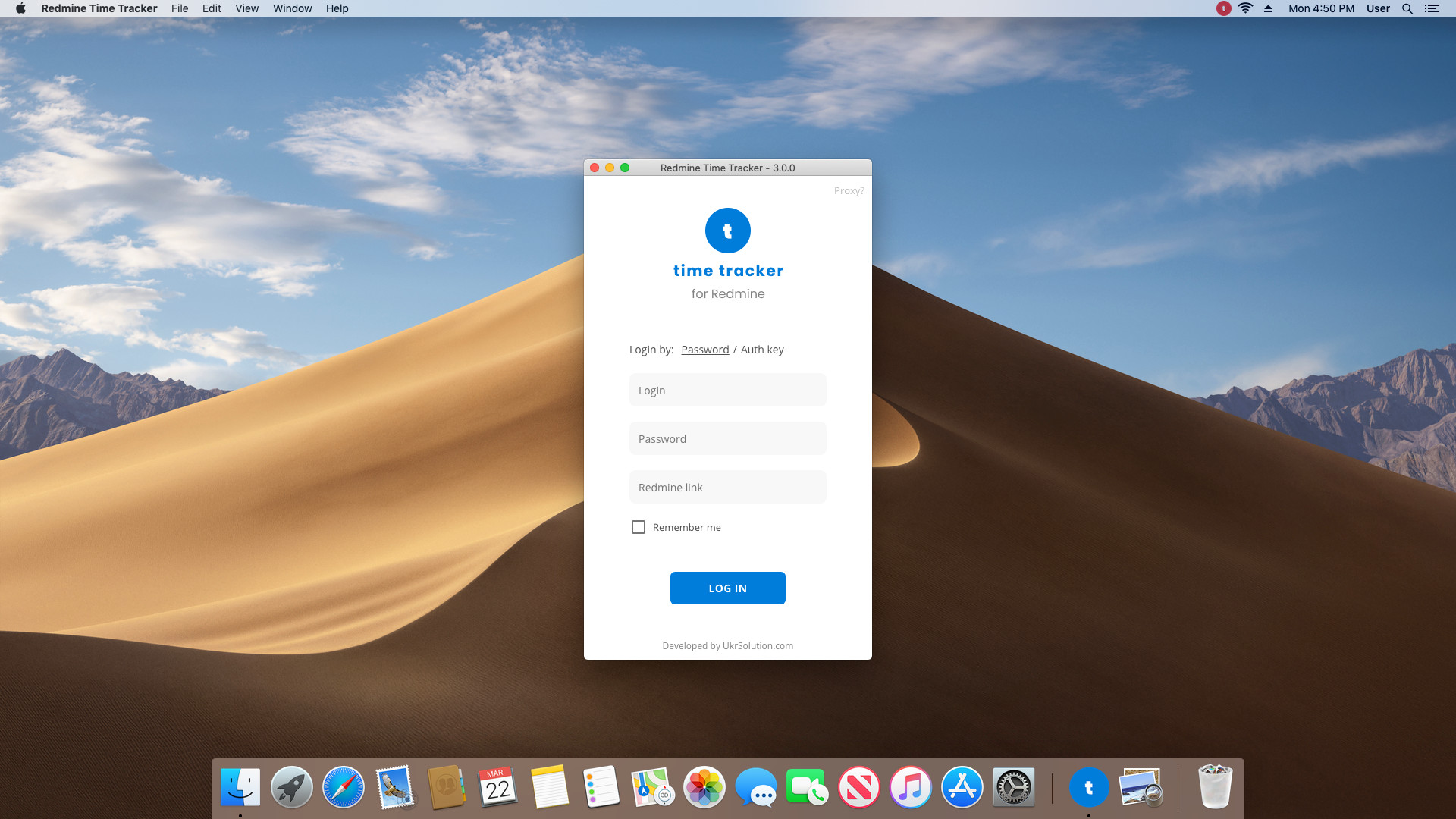 3. Project list (Windows):¶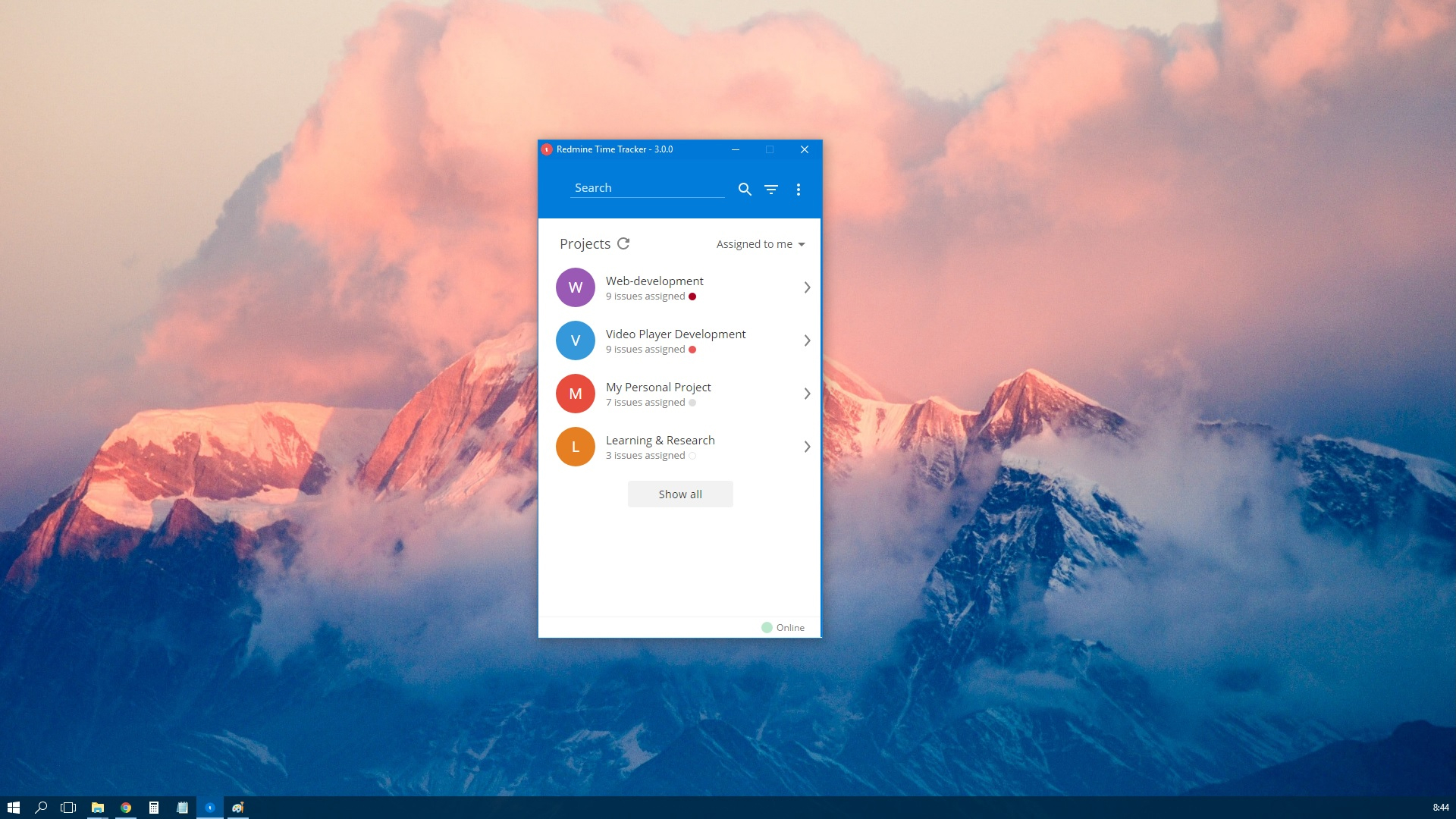 4. Issue tracking (Windows):¶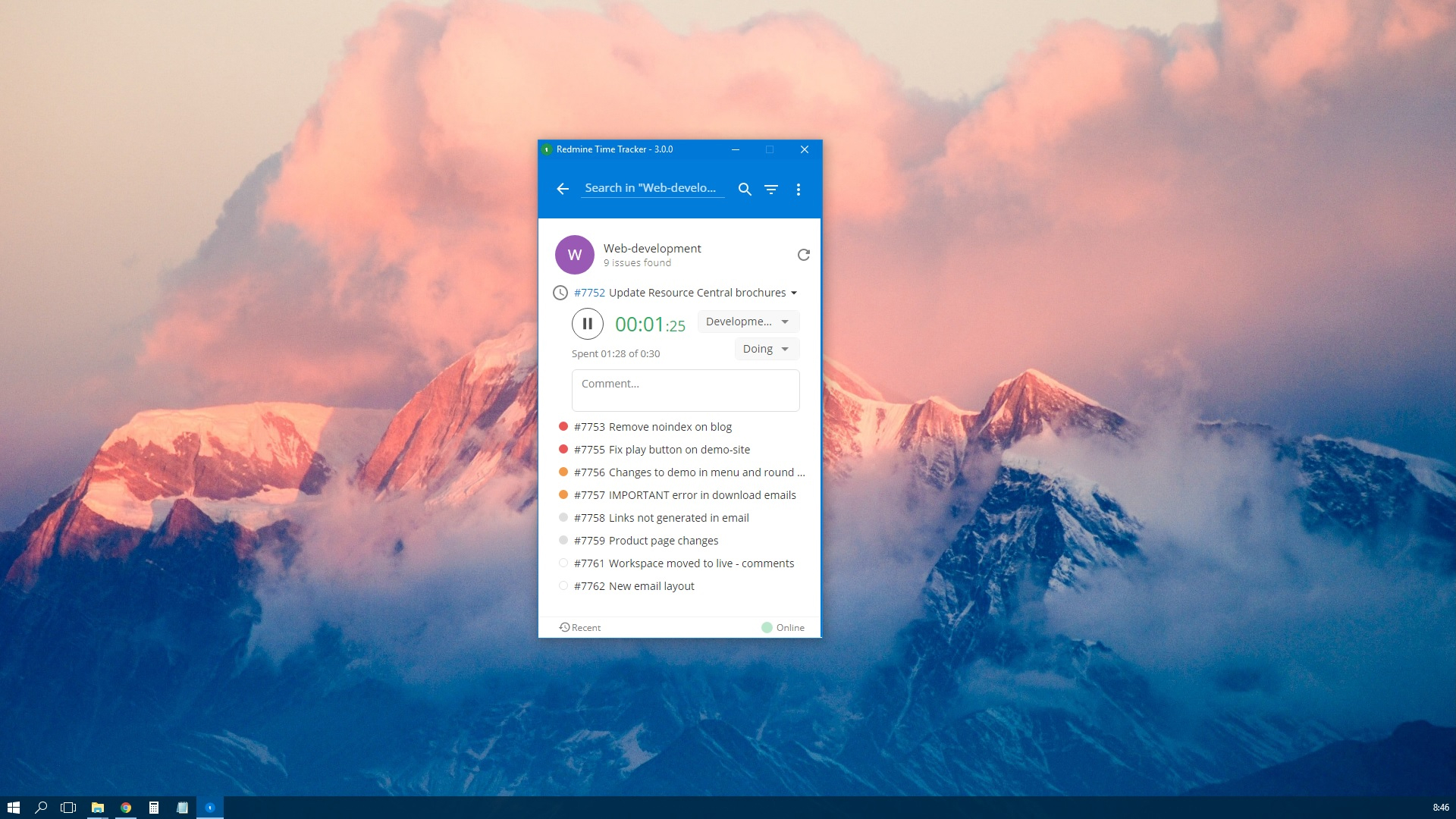 5. My Co-workers (Ubuntu):¶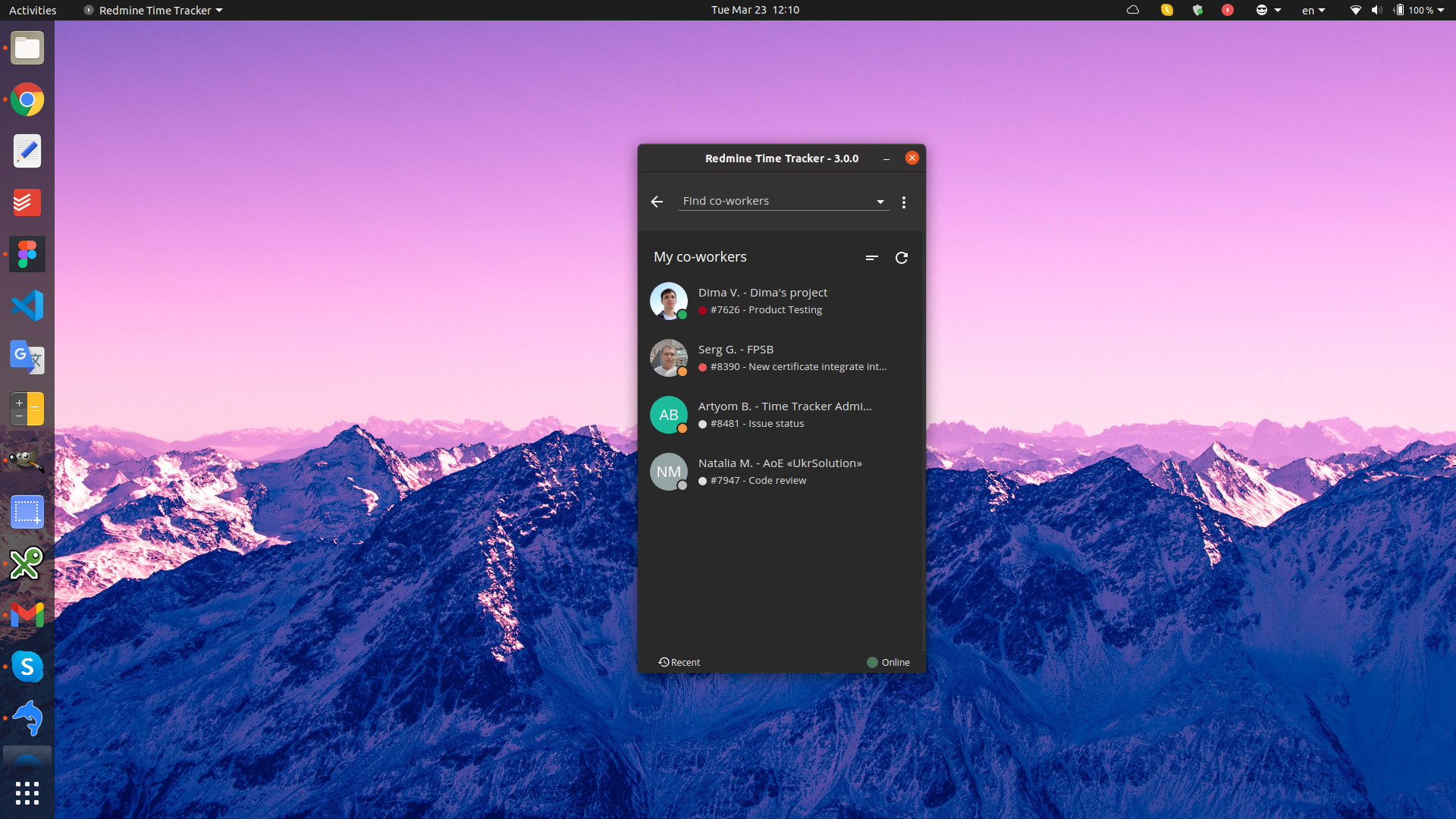 6. Settings (Ubuntu):¶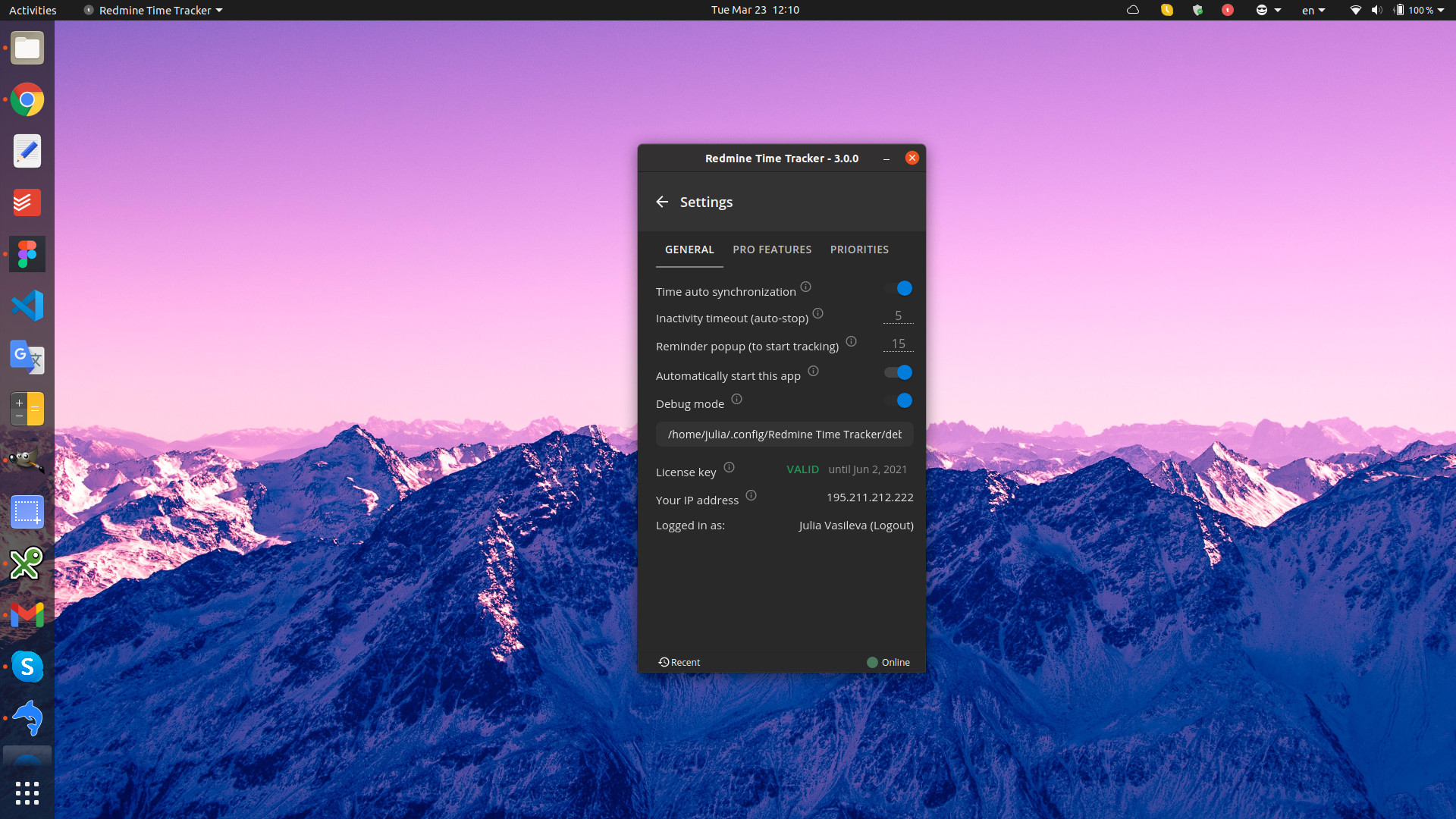 7. Browser Time Tracker:¶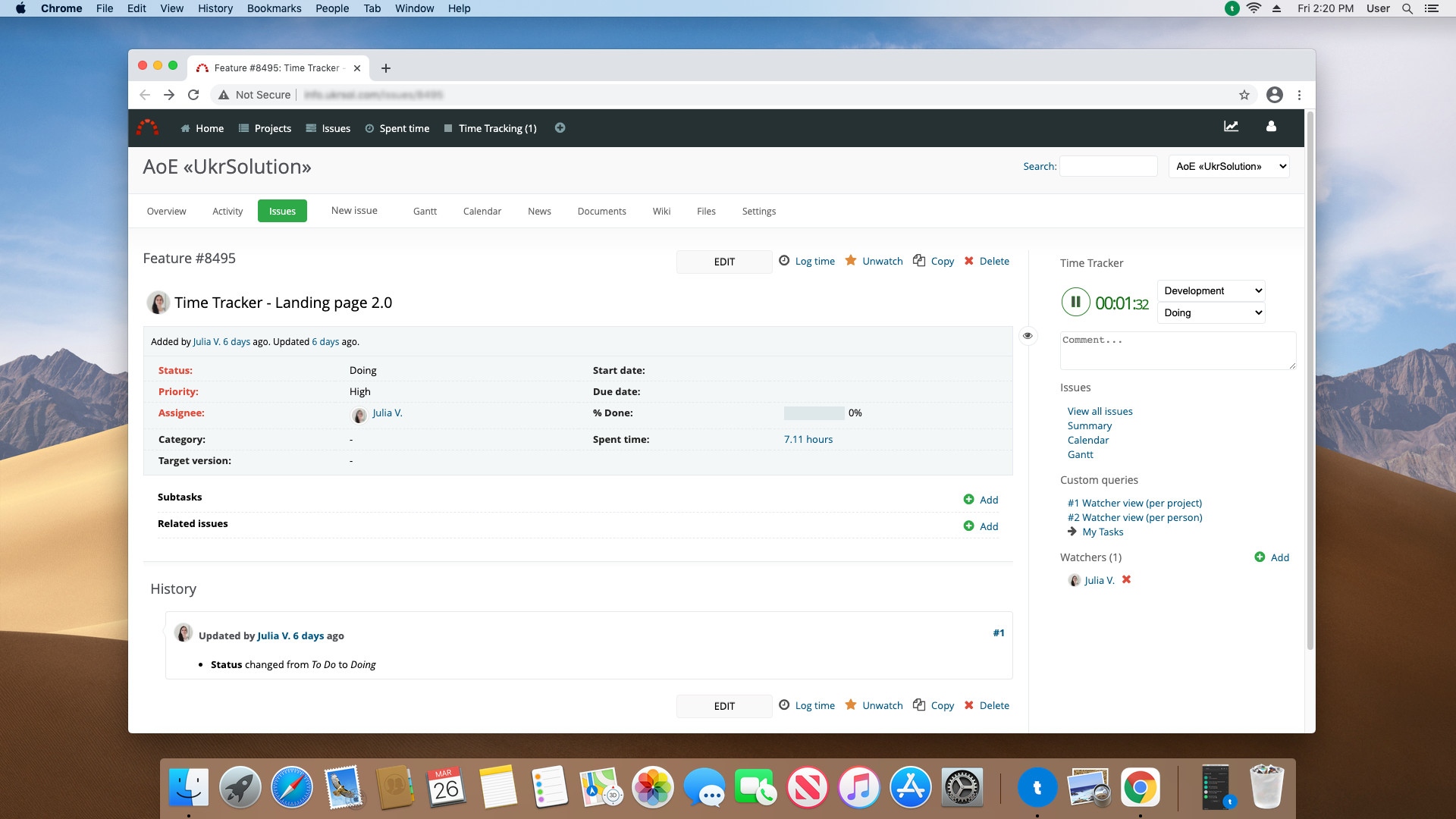 8. Staff Manager plugin - Real-time User Activity:¶
9. Time Tracker plugin - Settings:¶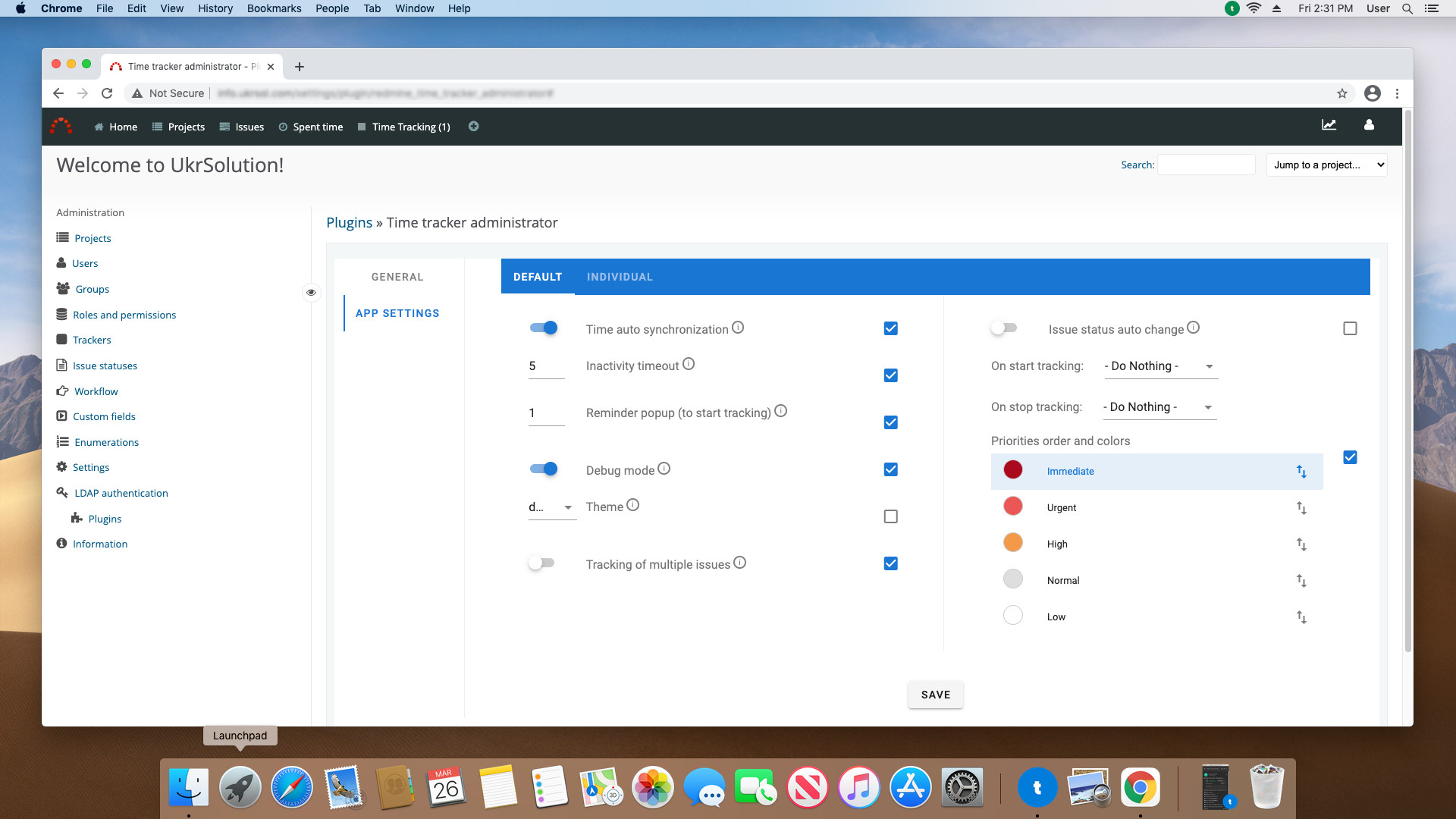 Installation notes
1. Install app on a Laptop/PC.
2. Install Redmine plugin for a better app performance and centralized app configuration.
3. Start time tracking.
Changelog
3.0.0 (2021-03-12)
Compatible with Redmine 5.0.x, 4.2.x, 4.1.x, 4.0.x, 3.4.x, 3.3.x, 3.2.x, 3.1.x, 3.0.x, 2.6.x.
0.5.10 (2020-04-20)
Compatible with Redmine 5.0.x, 4.2.x, 4.1.x, 4.0.x, 3.4.x, 3.3.x, 3.2.x, 3.1.x, 3.0.x, 2.6.x.
0.1.6 (2018-03-28)
Compatible with Redmine 4.1.x, 4.0.x, 3.4.x, 3.3.x, 3.2.x, 3.1.x, 3.0.x, 2.6.x, 2.5.x, 2.4.x, 2.3.x, 2.2.x, 2.1.x, 2.0.x.
User ratings