Defect #10181
Issue context menu and bulk edit form show irrelevant statuses
| | | | |
| --- | --- | --- | --- |
| Status: | Closed | Start date: | |
| Priority: | Normal | Due date: | |
| Assignee: | Jean-Philippe Lang | % Done: | 0% |
| Category: | Issues workflow | | |
| Target version: | 1.4.0 | | |
| Resolution: | Fixed | Affected version: | 1.0.3 |
---
Description
redmine 1.0.3.
A parent project is setup with several custom trackers with custom workflows. It's child project uses a completely individual tracker with its own workflow (not overlapping with any of its parent's).
When I right-click an issue in the issue list of the child project and select Status, it shows me all statuses from the parent project (as disabled) along with the ones for the current tracker/project. Much unneeded staff to scroll through.
Similar on the bulk edit screen: all statuses from parent project are listed as available, although the current project only has one tracker and one workflow with none of those statuses relevant.
Is it the same in the latest release? Any way to filter them more strictly?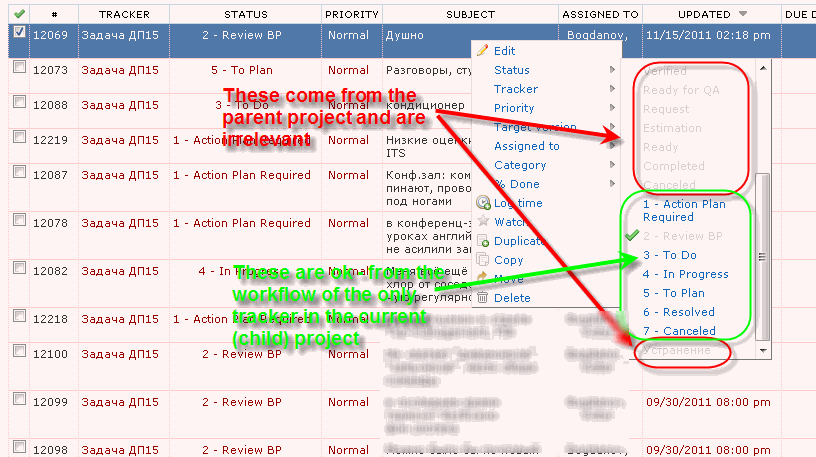 ---
History