Defect #34834
Line breaks in the description field of custom fields are ignored
| | | | |
| --- | --- | --- | --- |
| Status: | New | Start date: | |
| Priority: | Normal | Due date: | |
| Assignee: | - | % Done: | 0% |
| Category: | UI | | |
| Target version: | - | | |
| Resolution: | | Affected version: | 4.1.0 |
---
Description
The text in the description field of a custom field is displayed as a tooltip. In Redmine 4.1, all line breaks in the descriptions are ignored when showing a tooltip.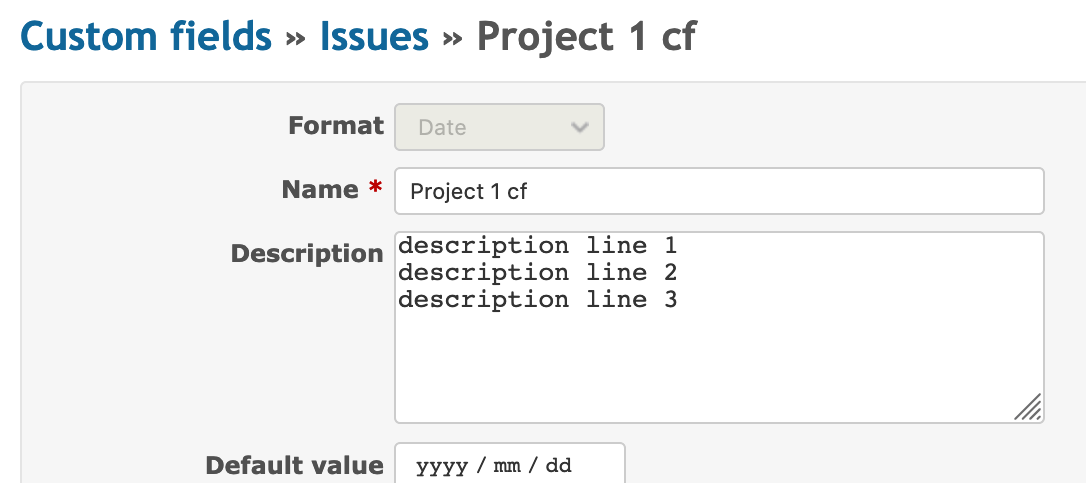 Redmine 4.1:

Redmine 4.0:


---
History
Related to Patch #31441: Show elements titles using jQuery UI tooltips added
By specifying content instead of title in tooltip, it was possible to reflect including line breaks.
I'm not used to JQuely, so I would appreciate it if you could fix any problems.
public/javascripts/application.js


$(function () {
  $("[title]:not(.no-tooltip)").tooltip({
+    content: function() {
+      return $(title)
+    },
    show: {
      delay: 400
    },
    position: {
      my: "center bottom-5",
      at: "center top" 
    }
  });
});