A revolutionary Interactive Redmine Gantt Chart¶
---
Compatible with Redmine 4.2x
---
A FREE version is in an online demo at https://www.redmine-x.com/#bottom2 & the downloadable version is at https://www.redmine-x.com/redmine-gantt-chart. If you need to test the plugin in your Redmine environment, just contact Redmine X for the evaluation version.
This plugin brings time planning to another level. It works with any Redmine theme, however, it looks best with our RedmineX theme that is a part of the Upgrade plugin. Just see https://www.redmine-x.com/redmine-upgrade.
Key Features Of The Redmine X Gantt Chart Plugin¶
create & update tasks & milestones with ease
embrace drag & drop functionality for quick planning
see task priorities
execute updates with zero effort
filter & zoom
--> see all features at https://www.redmine-x.com/redmine-gantt-chart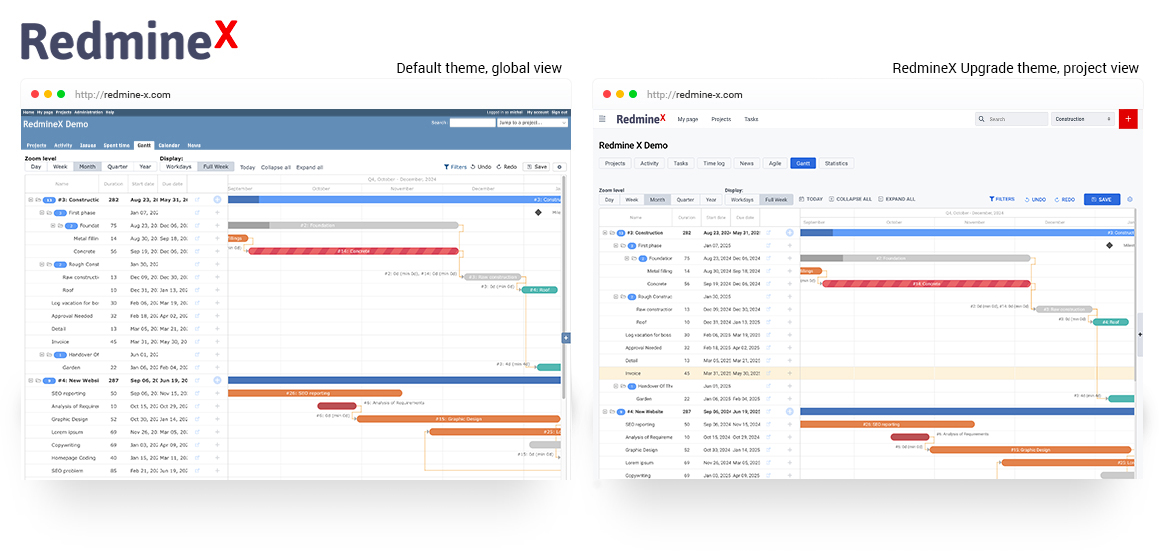 This extraordinary Redmine Gantt chart plugin gives project managers a global view where they can see the whole project portfolio and it also provides a project view where you can make use of the critical path feature.
Users Appreciate¶
inline editing of the task name
quick access to tasks using a modal or a direct link
mouse-enabled canvas moving
visual representation of issue priorities is a priceless feature for precise planning
Using task relations & delays, you can precisely plan the essential time needed between two tasks and if necessary, you can export the Gantt chart to PNG, PDF Excel, or MS project.
Installation notes
Follow standard Redmine installation:¶
unzip the archive and copy it to redmine_root/plugins or copy the archive in the same location and perform the unzip command in the console
from redmine_root run bundle install
restart Redmine
migration not needed
Changelog
1.0.1 (2021-02-01)
Compatible with Redmine 4.1.x, 4.0.x.